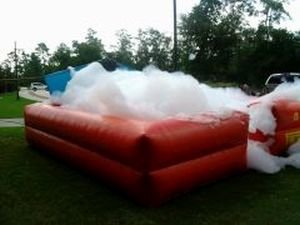 Kids Foam Pit Party Package




$350.00

Please call to reserve this item.

Foam party rental with 15' x 15' foam pit
The kids foam pit party package rental includes:
1 easy set up foam machine rental
1 foam machine stand
1 super lightweight foam pit (15' x 15')
3 packets of foam powder
2 mixing buckets

You must provide:
1 electrical outlet
1 garden hose with good water pressure

The 3 foam packets included in this package will provide 60 to 90 minutes or more of non-stop foam, which will produce more foam than you can imagine. The foam machine can be easily started and stopped as needed. The light weight foam pit is very easy to set up and really lets the foam build up to a mountain sized pile of bubbles.
Kids Foam Pit Party with standard foam machine.
Dual Kids Foam Pit Parties one with a foam cannon and one with a standard foam machine.

Daily rate is $350
Weekend (2 day) rate is $500
Weekday Special (Mon-Thurs) only $300
Here are some great options and add-ons for your foam party:
Delivery, setup and p/u starts at $80+
Foam Cannon add-on $50
Additional foam packets $40 each
Add any of these items to your order during the easy to use online booking process. Always be sure you have enough foam powder by purchasing additional foam packets during your checkout. Any unopened foam packets may be returned.
Pick up is available at our west end location, or opt for delivery option at checkout. Our staff are available to give you a complete demonstration of the easy set up and operation of our rental foam machines. It's really very easy and all your need is a garden hose with good water pressure, an electrical outlet and a space for the foam fun.