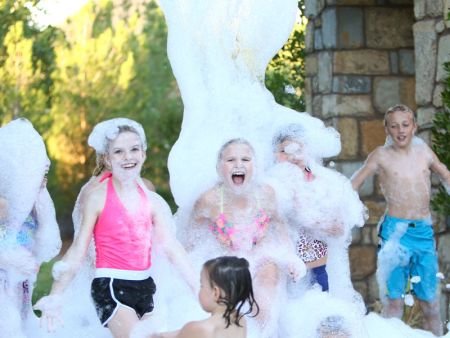 Basic Foam Party Package




$199.00

Please call to reserve this item.

Affordable Foam Birthday Parties
This is the best new birthday party idea in the Edmonton area. Our basic foam parties are affordable, so easy and so much fun! Transform your backyard into a foam filled party in minutes. Your basic foam party package will include the following:
1 foam machine stand
1 lightweight foam machine
2 foam packets and mixing buckets
The 2 foam packets included in this package will provide 40 to 60 minutes or more of non stop foam which will produce more foam than you can imagine. The foam machine can be easily started and stopped as needed do there is no need to use all your foam at once. All you need to supply for your foam party is a spot in your backyard, a garden hose water supply and one electrical outlet. Our experienced staff can answer any questions you may have and show you how to set up your foam machine when you pick it up at our convenient west end warehouse. If pick up is not an option for you, or if you would like assistance setting up your foam party, we offer optional delivery and set up for a small fee as shown in the options below.

Daily rate $199
Weekend (2 day) rate is $299
Weekday Special (Mon-Thurs) only $149

Here are some great options and add-ons for your foam party. You may wish to add some extras to your foam party for even more fun. The kids are going to love the foam party and you don't want to run out of foam so why not add a couple additional foam powder packets for only $40 per packet. Each packet will add another 20 to 30 minutes of non-stop foam. Any unopened foam packets may be returned after you party for full refund. We also offer the cool foam cannon which is a specialty add on to the foam machine that causes the foam machine to shoot a stream of foam into the air! Click here to see a video of the foam cannon in action.

Delivery, setup and pick up $40+
Foam Cannon add-on $50
Additional foam packets $40 each

Add any of these items to your order during the easy to use online booking process. Always be sure to not run out of foam, you may return any unopened foam packets.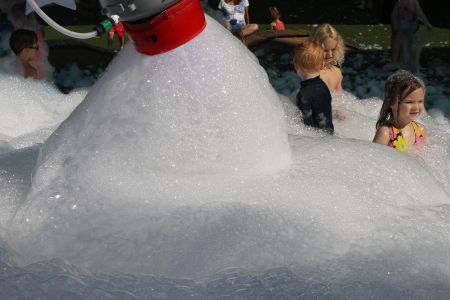 Check out the video below to see just how easy it is to set up the Bounceroo Foam Machine.